BSN for Baccalaureate Degree Graduates
Accelerated Program Designed for Students with a Bachelor's Degree

You are currently viewing the Phoenix2 BSN for Baccalaureate Degree Graduates page.
Program Summary
Your bachelor degree is proudly hung on your wall. The only problem? You want to become a registered nurse without having to commit to many more years of school. Brookline's program is specifically designed for students who already have a bachelor's degree in another field.
Earn a Bachelor of Science in Nursing (BSN) in 16 months of full-time study.
The sole focus of this program is on nursing and gaining clinical experience. The curriculum includes in class instruction, lab work in a simulation center and clinical placements in the Phoenix2 area.

Note – Courses requiring a lab, simulation and clinical placement may be delayed until later in the program due to COVID-19.
Employment Projections
16,940 new Registered Nurse jobs will be added in Arizona from 2014-2024.(1)
22% growth in Arizona from 2014-2024 which is much faster than the national average for all occupations.(2)
Median yearly salary in the state of Arizona is $72,680.(3)
(1)
https://www.onetonline.org/link/summary/29-1141.00
Classes starting soon – contact an Admissions Representative today!
Program Spotlight
What classes will I take?
The BSN for Baccalaureate Degree Graduates (BDG) program is designed to prepare graduates for entry-level professional nursing positions that will require them to assess, plan, implement, and evaluate care within a variety of clinical settings, including hospitals, community health agencies and clinics.
This 16 month program includes pre-professional nursing coursework. Nursing courses that consist of classroom and laboratory activities are integrated with clinical experiences which include simulation.
What are the typical class hours like?
Class and lab hours run between 8:00 AM and 5:00 PM Monday through Friday.
Your clinical experiences, including simulation could occur during the day, evening and weekends.
What is required for Admissions?
Official transcripts from all college or universities attended documenting conferral of a baccalaureate degree and completion of specific pre-requisite courses.
High school Diploma or GED.
Passing of the HESI test, minimum composite score of 73%, with a minimum score of 70% on the math and 74% on the vocabulary parts.
Program Description & Outline
What Classes Will I Take?
Here are just a few of the classes you will take during your BDG Program:
Health Assessment
Pharmacology
Informatics
Research and Evidence-based Practice
Leadership, Ethics and Policy in Healthcare
Adult Health
Program Outline
122 CREDITS – 2,295 CONTACT HOURS – WEEKS
Brookline College's Second-degree Bachelor of Science in Nursing program allows graduates to be eligible to take the registered nurse licensure examination after only 16 months of full-time study. In this program, college graduates transition into entry-level nursing roles in a compressed timeframe. Clinical experiences in the hospital, laboratory, and community supplement classroom learning as students develop the skills and competencies to provide nursing care across the healthcare continuum.
Brookline College prepares students in the Bachelor of Science in Nursing program to take certification and/or licensure exams related to their program of study, including the NCLEX-RN licensure exam.
Student Learning Outcomes:
Upon completion of the Bachelor of Science in Nursing program, graduates will be able to:
Utilize the nursing process and critical thinking as tools to make culturally-sensitive patient-centered clinical decisions in all health care settings within systems-based environments.
Collaborate with patients and other members of the healthcare team in the planning, coordination, and provision of competent care.
Integrate evidence-based findings into nursing and collaborative practice.
Promote patient and staff safety utilizing the process of quality improvement based on available evidence.
Use information and technology for communication, knowledge development, and clinical-decision making.
Demonstrate leadership behaviors and professionalism when providing care to patients across the lifespan in all health care settings.
Integrate legal, ethical, and professional standards into nursing practice.
Residential Program Requirements
| Program Concentration – 68 Credits – 1485 Contact Hours | Credit Hrs | Lecture Hrs | Lab Hrs | Practicum |
| --- | --- | --- | --- | --- |
| NMH100 Nursing Medication Math | 1 | 15 | 0 | 0 |
| NUR 201 Introduction to Professional Nursing | 3 | 45 | 0 | 0 |
| NUR 202 Fundamentals of Nursing | 5 | 45 | 30 | 45 |
| NUR 302 Health Assessment | 3 | 30 | 30 | 0 |
| NUR 303 Information & Technology in Nursing Practice | 3 | 45 | 0 | 0 |
| NUR 304 Gerontological Nursing Care | 3 | 30 | 0 | 45 |
| NUR 305 Adult Health I | 7 | 60 | 30 | 90 |
| NUR 306 Pharmacology I | 3 | 45 | 0 | 0 |
| NUR 307 Psychiatric Nursing | 3 | 30 | 0 | 45 |
| NUR 308 Obstetrical Nursing | 3 | 30 | 0 | 45 |
| NUR 310 Evidence Based Practice | 3 | 45 | 0 | 0 |
| NUR 401 Adult Health II | 7 | 60 | 30 | 90 |
| NUR 402 Pediatric Nursing | 3 | 30 | 0 | 45 |
| NUR 403 Community Health Nursing | 4 | 45 | 0 | 45 |
| NUR 404 Pharmacology II | 3 | 45 | 0 | 0 |
| NUR 405 Health Care Law & Ethics | 3 | 45 | 0 | 0 |
| NUR 406 Leadership in Nursing Practice | 4 | 45 | 0 | 45 |
| NUR 407 Clinical Integration Capstone | 4 | 0 | 0 | 135 |
| NUR 410 Nursing Concepts Synthesis | 3 | 45 | 0 | 0 |
| General Education – 36 Credits – 540 Contact Hours | Credit Hours | Lecture Hours | Lab Hours | Practicum/Clinical |
| --- | --- | --- | --- | --- |
| PRQ 277 General Education Prerequisities * | 36 | 540 | 0 | 0 |
| Additional Course Requirement – 18 Credits – 270 Contact Hours | Credit Hours | Lecture Hours | Lab Hours | Practicum/Clinical |
| --- | --- | --- | --- | --- |
| BIO 205 Pathophysiology ** | 3 | 45 | 0 | 0 |
| PRQ177 Program Course Prerequisites*** | 15 | 255 | 0 | 0 |
(*) Subject areas permissible for PRQ 277 course credit include: Humanities: including, literature, philosophy, logic, foreign language, art, music appreciation, and communications, including rhetoric, composition, and speech; but excluding business communications, spelling, letter writing, and word study; Mathematics and the Sciences: including biology, chemistry, physics, geology astronomy, and mathematics theory and analysis, including algebra, trigonometry, geometry, calculus, and other advanced mathematics courses, but excluding business mathematics and basic computations, and Social Sciences: including history, economics, political science, geography, sociology, anthropology, and general psychology, but excluding courses such as practical psychology, selling techniques and social or business behavior. (**) Some courses may be completed/required to be completed via the online delivery method. (***) PRQ 177 Courses include the following: Anatomy and physiology (two courses), carrying a minimum of 6 semester credits; microbiology, a minimum of 3 semester credits; developmental or lifespan psychology, a minimum of 3 semester credits; statistics (in any field of study), a minimum of 3 semester credits.
Admissions
New students are enrolled three times per year.
Admission Requirements
Official transcripts from all college or universities attended documenting conferral of a baccalaureate degree.
To be accepted as a student in the BDG program you must have completed the following courses as part of your bachelor's degree. Anatomy and physiology (two courses), carrying a minimum of 6 semester credits; microbiology, a minimum of 3 semester credits; developmental or lifespan psychology, a minimum of 3 semester credits; statistics (in any field of study), a minimum of 3 semester credits. If these classes were not part of your degree you can complete them at Brookline prior to your entry into the BDG program.
High school Diploma or GED.
Applicants are required to take the complete

HESI

A2 admission assessment examination: English, Math, Science, and Learner Profile. Applicants must achieve a minimum composite score of 73%. GPA of 2.5 is required for admission. GED cumulative scores specified by series/date. Any applicant's file that does not meet the minimum requirements are reviewed by a faculty-led Admissions Committee which may accept or deny the file.

Justification

is documented in the file and provided to the applicant. Please visit the College Catalog for all of the admissions requirements.
Our Admission Representatives are available to answer your questions about admission requirements and walk you through the application process. Call (602) 242-6265 to speak to a representative or request more information.
Brookline College does not have delayed acceptance. Once accepted into the Brookline's BDG program you are in! Other schools often won't accept a student into the Nursing program until after they have completed a group of required classes and maintain a cut score GPA.
Admissions Process
Connect with a Brookline Admissions Representative by either submitting your contact information (Request Information) or calling (602) 242-6265.
Visit the campus. Two campus visit types are available: either a group information session or a personalized one-on-one tour.
An Admissions Representative will be assigned to help you through the entire process.
Complete and Application for Admissions and a background check.
Submit official transcripts from each college or university you have attended or are currently attending.
Take the HESI test. This test is a requirement for all students entering Brookline's BSN and BDG programs. The HESI test takes place on Wednesday at 1:00 PM and Friday at 9:00 AM at the Phoenix Campus expect for holidays. Please call to confirm time and dates since the testing schedule is subject to change.

Upon completion of the admissions requirements, you will be notified by your Brookline Admissions Representative on your status. Our admissions process roughly takes one to two weeks to move from application to acceptance.
Administration & Faculty
Jan Kramer DNP, MSN, RN
VP of Nursing and Chief Nurse Administrator.
Dr. Kramer has over thirty-five years of experience in Nursing education and administration. Her area of practice is in Maternal/Child with an emphasis on pregnant women and newborns to adolescents.
Accreditation & Awards
Accreditation
Accreditation is the recognition that an institution maintains the standards required to achieve the credentials for professional practice. It is the status granted to an institution that meets or exceeds specific criteria of educational quality as defined by the accrediting agency.
Institutional Accreditation: Brookline College's Phoenix, Tucson, Tempe, and Albuquerque campuses are accredited by the Accrediting Bureau of Health Education Schools (ABHES).
Brookline College has been approved by Arizona to participate in the National Council for State Authorization Reciprocity Agreements. NC-SARA is a voluntary, regional approach to state oversight of postsecondary distance education. For more information, visit: http://nc-sara.org/
Programmatic Accreditation: Programmatic accreditation, also known as specialized or professional accreditation, is designed for specialized departments, programs, schools, or colleges within a university or institution that has already received accreditation.
The Baccalaureate degree program in nursing and Master's degree program in nursing are accredited by the Commission on Collegiate Nursing Education, 655 K Street NW, Suite 750, Washington DC 20001.  202-887-06791.

Nursing Accreditation Disclosures
The BSN pre-licensure program is fully approved by the New Mexico Board of Nursing, nmbon.sks.com.
Awards
Brookline College Awarded Top 10 RN program in Arizona: RegisteredNursing.org has recognized Brookline College as one of the best nursing schools in Arizona.
"Selecting the best nursing school in Arizona can be difficult. To make the process easier first look for a school that supports students towards licensure and beyond.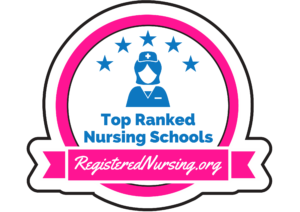 A great way to measure this is through NCLEX-RN "pass rates." We have ranked the top 10 nursing schools in Arizona by analyzing current and historical NCLEX-RN "pass rates", meaning the percentage of graduates who pass the exam, out of the 28 RN programs in the state. Programs reviewed include schools that offer an Associate in Nursing (ADN/ASN), BSN, or Direct-Entry MSN Degree. For more information on our top nursing school rankings, see our Methodology Page (https://www.registerednursing.org/rn-ranking-methodology/)."
Clinicals
When do I participate in clinical experiences?
All students begin their hands-on learning in the skills and simulation laboratory located on campus. Once fundamental skills have been mastered and validated, students begin on-site, direct patient-care learning opportunities, or "clinical experiences".
Generally, clinicals begin a few days or weeks after classroom teaching and last for the duration of the clinical course. Clinical shifts average eight to 10 hours, one to two days per week. Most clinical experiences are scheduled during the week. However, second shift and weekends may be necessary depending on available sites. The bachelor's degree program has a total of 10 clinical courses.
Where will I complete clinical experiences?
Brookline students have opportunities to experience practice settings that have included large and small hospitals, long-term care facilities, community and public-health agencies, faith-based service organizations, independent practices, ambulatory care centers, Veteran's Administration Medical Centers, schools, home health environments… anywhere healthcare is delivered.
Recent clinical sites in the Phoenix area include: Banner Health, Abrazo Health, Phoenix Children's Hospital, Anthony Bates Foundation Cardiac Screening, Maricopa Department of Public Health, and the Susan G. Komen Race.
Tuition & Fees
Your education is a big investment and Brookline College believes no investment offers more potential. A career in Nursing can transform your life, and we're here to help you make that happen.
Tuition
At Brookline College, there are no hidden costs and many of the fees other schools charge are included in your tuition rate.
| Requirement | Cost |
| --- | --- |
| Tuition | $697 per credit hour |
| HESI entrance exam | $50 |
| Application Fee | Included |
| Simulation and lab fees | Included |
| Uniform, blood pressure cuff and pulse oximeter | Included |
| Background check/drug screening/fingerprinting | Included |
| Books & Supplies | Included |
| Other Clinical and Tech Fees | Included |
| Health Screening & Immunizations | $500 – $1,400 is the usual amount that students pay to obtain prior to attending nursing programs. |
| Group Accident & Sickness Insurance | $2,208 is an average coverage amount that students pay on their own. |
Paying For School
More than 88% of Brookline College students use some form of financial aid(4) to help cover the cost of their education(5). That's why we offer personalized counseling from a Student Finance Advisor to help make your college experience more affordable.
We have also provided The Net Price Calculator that will provide preliminary, non-binding estimates of federal, state, and institutional aid eligibility based on federal methodology.
(2) Student loans, grants and scholarships are available to those who qualify.
(3) Percentage calculated by Brookline College for the 2015-16 school year.
BSN for Baccalaureate Degree Graduates
Preparing to pass the NCLEX-RN
As a BS in nursing graduate, you will be eligible to take the NCLEX-RN exam and become a Registered Nurse. Brookline's curriculum aligns with nursing best practices and the NCLEX-RN test plan using a computerized integrated RN Success ATI testing program. The Brookline program prepares you to successfully pass the NCLEX-RN exam. Obtaining an RN license allows you to work as a licensed registered nurse (RN) in the state of Arizona or any other state that you chose to take the exam when you graduate. This pre-licensure nursing program also prepares you to continue your education and earn a Master's Degree in Nursing.
Locations that offer this program
Brookline College - Albuquerque Campus
Main Campus
4201 Central Avenue N.W.
Suite J
Albuquerque, NM 87105
Extension Educational Center
10131 Coors Blvd NW
Suite I-01
Albuquerque, NM 87114
(505) 880-2877
AlbuquerqueCampus@brooklinecollege.edu
M-Th 8:00AM – 7:00PM
F 8:00AM – 5:00PM
Our Promise to You
Fixed Tuition
You will know what you're going to pay right from the beginning and it won't change during your education. That's our promise to you.(6)
(4) Students who are required to repeat a course to fulfill graduation requirements are subject to additional expenses.
Dedicated Faculty
You'll learn from qualified instructors who are committed to your success in the classroom. With small class sizes, you'll interact closely with your faculty as they teach, coach and mentor you through your time of study.
Financial Guidance
Understanding the options you have to pay for school is important, and without help it can be overwhelming. Our staff will guide you through the process. From scholarships and grants to loans, we're here to help you understand how to search and apply for financial aid. Learn More
Diverse Clinical Learning
Gain clinical experience at hospitals, independent practices, ambulatory care centers, VA medical centers and more.
Job Placement Support
After graduation, we'll help you with your career search with everything from resume writing help to job search support to interview tips.(7)
(5) Brookline College cannot guarantee employment
Continuing Nursing Education
Brookline College is committed to the advancement of nursing education and the success of nurses. With advanced degrees (Masters of Science in Nursing, Masters of Science in Nursing – Health Systems Administration) and workshops, nurses can continue to build their skills and career.
Discover our College of Nursing
See through the eyes of a Brookline Nursing student!
Get a glimpse into our nursing student experience. See our classrooms, labs, and meet our students and faculty!